Shalom b'Yeshua (Peace in Jesus)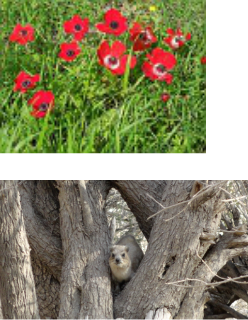 Wild anemones & a rock badger (coney) in Israel
BMC (Beit Mayim Chayim which is Hebrew for 'Home of the Waters of Life') is a Bible study group in mid-Missouri. We enjoy a casual learning and worship environment in our temporary new home within the Sedalia Senior Center (312 S. Washington, Sedalia, MO 65301). Currently we are renting space to provide room for our Shabbat/Sabbath study and our observance of the Moedim (Appointed Times known as Festivals of the Bible). We encourage and value:
faithfulness to the God of the Bible
joy in fellowship with others during our meetings
building each other up in faith and practice & forgiving each other when we fail to do so

the observance of the instructions of the

entire

Bible

worshiping our Savior in Spirit and Truth
loving one another and honoring each other whether or not we always agree

conservative - modest - dress that is not distracting to others

a teachable spirit with open dialogue during our times of study

and of course, Oneg (Delight) which is a fellowship meal following our study occasionally and on special days
with worship music and prayer and Scripture Reading
All, including 1st time visitors, are encouraged to participate in discussion, prayer, singing, reading and sharing a meal in mutual respect, with no monopolizing of the conversation or postulating, while following the direction of whoever is leading that day. We work toward and enjoy peaceful fellowship on Shabbat.
For more info see:
Guiding Principles link above
BMC is not a church or a denomination or part of the signs and wonders or faith movement, but a fellowship of people from a diversity of backgrounds who want to follow Yeshua/Jesus. We seek to understand the Bible from a historically & culturally accurate point of view (to the best of our ability). We are seeking the Truth and shedding some traditions, be they Jewish or Christian. The people who attend BMC are part of the Ekklesia of Yeshua (the assembly of Jesus, Matthew 16:18) and we follow Him as He leads us to Our Heavenly Father and to life.
בית מים חיים
Is the Hebrew Name of our Fellowship.
Transliterated (or Pronounced): Beit Ma'yim Cha'yim
Which means: Home of the Waters of Life

Our Name is Based on the following Scriptures:


"Come, all you who are thirsty, come to the waters . . ." Isaiah 55:1



Yeshua said, "Whoever puts his trust in me, as the Scripture says, rivers of living water will flow from his inmost being!"

(Now he said this about the Spirit, whom those who trusted in him were to receive later — the Spirit had not yet been given,

because Yeshua had not yet been glorified.)

John 7:38-39

CJB

Jeremiah 17:13, "O LORD, the hope of Israel, . . . the LORD, the spring of living water."

Exodus 17:1-7 and 1 Corinthians 10:1-5



Statement of Faith January 2016WHO IS GOD We believe in One True God, the God of the Bible, the God of Abraham, Isaac & Jacob. God is the Creator and Master of all things. God is eternal and unchanging and desires a holy (distinct or set apart) relationship with mankind whom He created in His image. · We affirm, without reservation, that Yeshua (Jesus in English) is Immanuel (Isaiah 7:14ff, Matt 1:23), G-d with us. Yeshua is the WORD of G-d in the flesh (John 1), the very image of the invisible God (Col 1:15 CJB, Philippians 2:5-11). · We affirm that Yeshua is Mashiach/Messiah and the promised Prophet that Moses spoke of in Deuteronomy 18:15-16. Everything about Yeshua haMashiach (Jesus the Messiah) in the Scripture is true and ALL of the Scripture, from Genesis to Revelation, points to Messiah and His work on earth and in heaven. · We affirm the Ruach haKodesh (literally 'Spirit of the Holy' or Holy Spirit) works in the lives of all men (drawing them to Himself.) · We affirm that the Ruach haKodesh is God's Spirit, for GOD is SPIRIT (John 4:24). He moves and works in His creation, among the children of men and comes to dwell with each person who commits their life to Him (Isaiah 57:16; Romans 8:9-11, 1 Cor 3:16, Eph 2:22). · We affirm the Biblical commandment and tradition of not profaning or making common the Holy Name (YHVH) of God. (Exodus 20:7) We use substitutions for the proper name of God such as HaShem (The NAME) or Adonai (the LORD), holding His name as sacred, not secret. For teaching purposes we will use The NAME, to the best of our knowledge, with all due respect. (Scholars say that the actual pronunciation of the LORD's proper name-YHVH- has been lost over the centuries – we don't pronounce His name because we don't really know how.) Authority of ScriptureWe believe that the Bible (the Holy Scriptures), consisting of the Tanakh (Torah, Prophets, Writings*) and the later writings commonly known as the B'rit Chadashah (known as New Covenant, or New Testament or called the Apostolic Scriptures) in their original autographs, are the authoritative WORD of God on matters of faith and practice for all those who follow the GOD of the Bible. · We affirm that our submission to a Biblical Torah* observant lifestyle is part of being in Covenant with God, pleasing and honoring to Him. We are empowered to obey His WORD by His Spirit, we are motivated by our love and gratitude for G-d who has redeemed us. (John14:15)
We affirm that Biblical Torah observance is for both the believing Jew and the believing non-Jew alike, native born Israelite and the foreigner, who is grafted into the covenant God made with Israel. (Num. 15:14-16, Eph. 2:11- 3:6; Romans 9-11.)
Yeshua the Messiah came to interpret the Torah correctly (Matt 5:17-20) and we follow his lead, for He is the living Torah, the Word became flesh who made His dwelling among us (John 1). The Torah, the Prophets, the Writings (that is the Tanakh) and Apostolic Scriptures contain Adonai's standard of Holiness. His commandments and standards are not to be taken lightly nor disregarded--but obeyed by those who put their faith in Him.
*Torah-defined means: guidance, instruction and teaching; primarily referring to the first 5 books of the Bible, but by definition it can refer to all of the Bible as God's guidance and instruction to Israel and all subsequent people who put their faith in the God of the Book.
*Tanakh—is an acronym for the Hebrew Scriptures: Torah (5 Books of Moses), Neviim (Prophets), Ketuviim (Writings)--T-N-K, add vowels and TaNaKh.
A Brief History of BMC
BEIT MA'YIM CHA'YIM
"Home of the Waters of Life" or "House of Living Waters"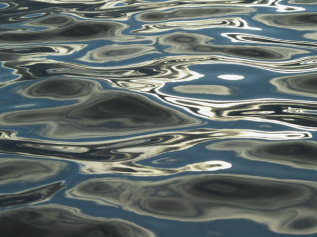 Sometime around the turn of the 21st century, interest in the Jewish Roots of the Christian Faith arose among several individuals here in mid-Missouri. The LORD had put on their hearts a desire to learn and understand the Hebraic Heritage of Jesus and the Bible in order to follow Him more closely—searching for Truth, not just Traditions.
By 2005 or 2006 a few small groups sprang up in churches & in people's homes. Hubner Suivillian, a Haitian Jew known affectionately as Shimshon, commuted to Sedalia from Kansas City to teach Torah and lead in Festival Worship. Our group also met in the basement of a medical building in Sedalia and by the winter of 2007 a more permanent location was found and we moved to the Smithton Missouri Youth & Community Center, 7 miles east of Sedalia, Missouri. In April of 2009, Paula Whiting was asked to come and teach at the fellowship and is continuing to lead in our search for the Truth of Scripture. Currently we are meeting in temporary housing in Sedalia, Missouri @ 312 S. Washington St. (Sedalia Senior Center) every Shabbat from 10am-2pm.
We have grown and established a leadership team, non-profit status with the State of Missouri and regular weekly meeting times. Our numbers in attendance have changed often through the years, but a core group of faithful students/disciples (talmidim in Hebrew) consistently learn together during Shabbat (Sabbath) fellowship.
Taking full advantage of the historical and grammatical scholarship & knowledge that has been gained in the last 70+ years we seek to increase our faithfulness
to Yeshua HaMashiach, who is Jesus the Messiah,
understand the Bible within its' proper context, and be "a light set on a hill" to the world around us.
BMC Mission Statement
Learning and Acquiring the TRUTH of the Good News in/of YESHUA (Jesus's Hebrew Name) through the Hebraic Heritage of Biblical Faith.
Our Identity is in Messiah
1.
Our Historical roots are from the Call of God (YHVH), Abraham and Creation (Gen 1,John 1) and we have come out of various cultures and religions of the world.
2.
Our standard or 'rule' for Trust and Faithful living comes from the Tanakh and the Apostolic Scriptures (that is -- the
entire Biblical record
) and the Ruach HaKodesh (the Spirit of the Holy 'One')
3.
Yeshua is the Head of His Ekklesia or assembly. We are a small part of His assembly and He is our LORD & Master.
4.
Yeshua's faithfulness/work provides salvation and right standing with God our Father for all who put their trust in Him, both Jew and Gentile.
>>>
Are we Christian? Are we Jewish? We follow the One who is called Yeshua (some call Him Jesus) who is the Messiah, the Savior of both Jew and Gentile. Thus we are often called Messianic (followers of Messiah). And where does Yeshua lead us? To His Heavenly Father and ours, the God of Abraham, Issac and Jacob, the God of Peter, Paul and John.
>>>>>
So Who are we? We are members of the Ekklesia (Greek word: means assembly) of Yeshua and a part of the remnant of Israel; those of us who are Gentile have been grafted (Romans 9-11) into the covenants of God with Israel through faith in Israel's Messiah. We are followers of the God of Abraham, Isaac, Jacob, Peter, James, and John. We are Gentile and Jew assembled as One New Man. (Eph 2:15) to serve the Living God.
5.
Our Identity is based on our unity or oneness with Messiah Yeshua who called us to Freedom from the condemnation of sin and the Joy to serve Him with the help of His Spirit.
6.
We are in the process of the reformation or renewal of our understanding & practice of ALL the Scriptures (sanctification). Our identity is not based on our ethnicity or all the cultural norms of Judaism or Christianity (some norms yes, not all), but on our relationship to the Holy God through His Son Yeshua. We are His beloved children.
Beit Ma'yim Cha'yim/Home of the Waters of Life
Our intention is to drink deeply from the Living Waters of Yeshua as we worship together. Being refreshed and changed as we immerse ourselves in His Word and His Spirit (Ruach haKodesh).
We are a house of prayer and fellowship. We seek God's wisdom, guidance and blessing for our lives and our community as we serve one another.
We are both Gentile and Jew serving One God, following One Messiah.

(Romans 9-11; Ephesians 2:11-22)
We are a house of Praise. We praise God, with study, prayer, song & dance and serving one another as we worship of Our Father in Heaven.
Shabbat/Sabbath Meeting Time: Every Saturday 10:00 am --
A Fellowship Meal follows study time on 3rd Shabbat of the month.
312 S. Washington St. Sedalia, MO (inside the Sedalia Senior Center)
Mailing address
P.O. Box 1073, Sedalia, MO 65302
660-829-5581
www.homeofthewatersoflife.com
Other Study/Worship Opportunities with BMC
TORAH STUDY
, weekly in-home Bible studies, several to choose from--currently none available
MOEDIM
=God's "Appointed Times"; Commonly known as Biblical Feasts (yet they are not all feasts, one is a fast) we follow the Hebrew Calendar and celebrate the LORD's "appointed times" together-- For more info on dates of Moedim go to our
Moedim/FESTIVAL
page or for dates
www.hebcal.com
Tevilah / Mikvah
- Immersion in a collection of living water can be arranged upon request.
Tours to Israel
--When the LORD comes or tentatively soon -- we are ready to go, but still have no definite plans as of now.
Future Dreams and Plans –
Locating a new permanent home for our fellowship
Biblical Hebrew Language Class; Seminars in the local area
Davidic Dance Workshops—Worshiping the Holy One with traditional Jewish dances
Biblical Counseling Center
Whatever Adonai asks of us
Come, worship the God of the Bible with us!
Shalom b'Yeshua (Peace in Jesus)